Let's finish what I started with last weeks TIPsy Tuesday featuring a Milk & Cookies Baby Shower I threw for a good friend of mine.
(Wonderful Diaper Cake and Milkshake by Baby Binkz)
The first tip I want to focus on is a sweet book you can easily make for mommy and baby (when they're older) to read.  I used the clipart that I had bought from Erin Bradley and printed some pages with different wishes for baby that people were to fill in the rest of what they wished for baby Matthew's future.  I slipped each page in a photo booklet that I got for $1.00. 
You can come up with just about anything.. "I wish you love…", "I wish you learn how to…", etc.  I think it was a great touch.
This next part was one of my favorite parts of creating this baby shower (beside the milk mustaches out of white chocolate).  As party favors I made a sugar cookies scrub (to stick with the theme of course) and put it in baby food jars.  I got the recipe from SELF magazine online.
What you will need:
1 cup brown sugar, 1 cup white sugar, 1 cup vegetable oil, 2 1/2 tbsp. vanilla extract, 2 tbsp. nutmeg, 2 tbsp. cinnamon, 2 tbsp. ginger, baby food jars, popsicle sticks, cupcake liners, bakers twine, printing lables
Mix up all the ingredients in a bowl!
It definitely has an interesting consistency.
Then carefully scoop the scrub into the baby jars.
Once all of your jars are filled, with lids on, and wiped down it's time to have your printed labels ready to stick on.
The cutest part is the cupcake liners.  Place a liner upside down on the baby jar lid and tie together with the bakers twine.  I put a popsicle stick in the bow for people to be able to get the scrub out easier.
I must say, the scrub really has been great for my skin and the perfect touch to end a fun and sweet baby shower.
PS – The recipe should fill between 4 and 5 baby jars!  Thanks Emily {Check out her site.. AMAZING!}  for reminding me 🙂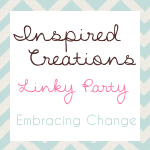 "My entry into Craftionary sponsored by Appliances Online and their American Fridge Freezers."
PWW Button